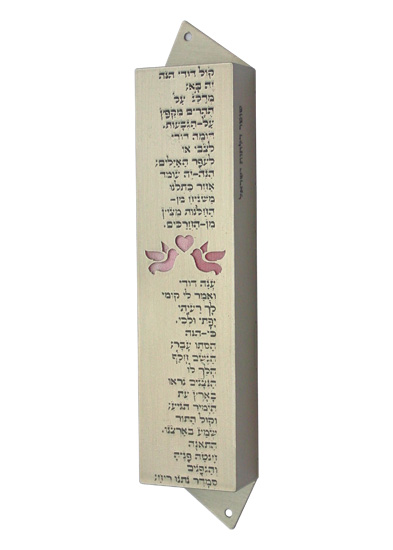 Kol Dodi Mezuzah
SKU: ME408S
price $85
Add to basket
Description:
This romantic mezuzah is a perfect wedding gift! it is imprinted with the love text from the song of songs chapter 2:
"My beloved! Behold, he cometh, leaping upon the mountains, skipping upon the hills. 9 My beloved is like a gazelle or a young hart; behold, he standeth behind our wall, he looketh in through the windows, he peereth through the lattice. 10 My beloved spoke, and said unto me: 'Rise up, my love, my fair one, and come away. 11 For, lo, the winter is past, the rain is over and gone; 12 The flowers appear on the earth; the time of singing is come, and the voice of the turtle is heard in our land; 13 The fig-tree putteth forth her green figs, and the vines in blossom give forth their fragrance."
The "Shomer Daltot Israel", which means the protector of our gates, is imprinted on the mezuzah.
Signed by the artist
Features:
Materials:
Coated Nickel Silver
Dimensions:

5" X 1"
12.7 cm X 2.5 cm

Scroll:
fits max. 10 cm scroll
Accesories:
Mounting hardware
copy of a scroll