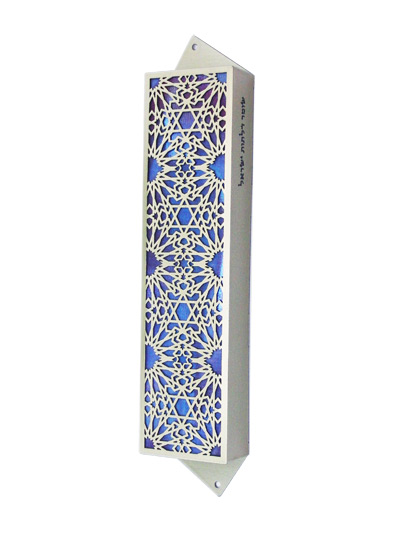 Arabesque Mezuzah
SKU: ME304L
price $105
Add to basket
Description:
The Arabesqua mezuzah has a unique artistic design based on rhythmic linear patterns in combination with traditional religious motifs.
This arabesque combines the "Magen David", the symbol of Jewish identity along with geometric repetitive motifs and a vivid warm color.
The Mezuzah is also imprinted with "Shomer Daltot Israel", which means the protector of our gates.
Signed by the artist.
Features:
Materials:
Coated Nickel Silver
Dimensions:

6" X 1-1/4"
15 cm X 3 cm

Scroll:
fits max. 12 cm scroll
Accesories:
Mounting hardware
copy of a scroll