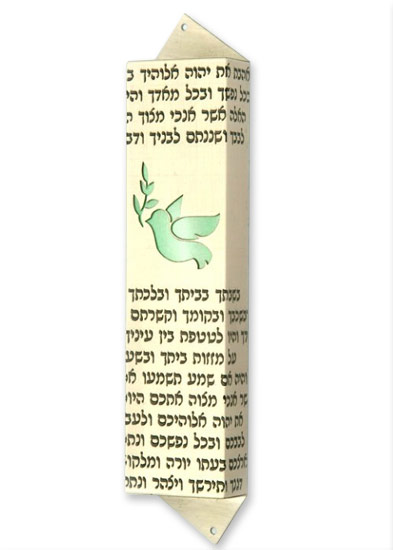 Dove Mezuzah
SKU: ME302L
price $105
Add to basket
Description:
Decorated with doves and an olive branch, this classic mezuzah will bring peace and blessing into your home. The dove is commonly known as the symbol of peace and an olive branch held by a dove is used as a peace symbol since the 5th century BC.
This polished Mezuzah is etched with biblical text Written in Rashi script, the Hebrew text is taken from the "Shema Israel" prayer which appears in the Torah.
Signed by the artist.
Features:
Materials:
Coated Nickel Silver
Dimensions:

6" X 1-1/4"
15 cm X 3 cm

Scroll:
fits max. 12 cm scroll
Accesories:
Mounting hardware
copy of a scroll