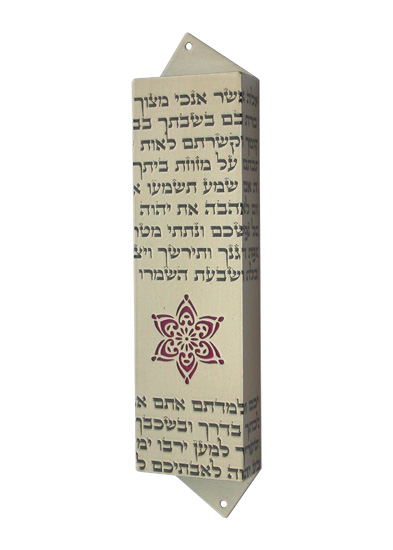 Star Mezuzah
SKU: ME206M
price $95
Add to basket
Description:
This mezuzah is imprinted with the Hebrew biblical text the : Shema Yisrael prayer that appears in the Torah, the most important of all Jewish sayings. The text is engraved into the metal and becomes like a graphic pattern which wraps the mezuzah and reveals the hidden blessings inside.
It is decorated with a unique "Magen David" design which is a recognized symbol of Jewish identity and Judaism.
Signed by the artist.
Features:
Materials:
Coated Nickel Silver
Dimensions:

5-1/2" X 1-1/4"
14 cm X 3.2 cm

Scroll:
fits max. 10 cm scroll
Accesories:
Mounting hardware
copy of a scroll