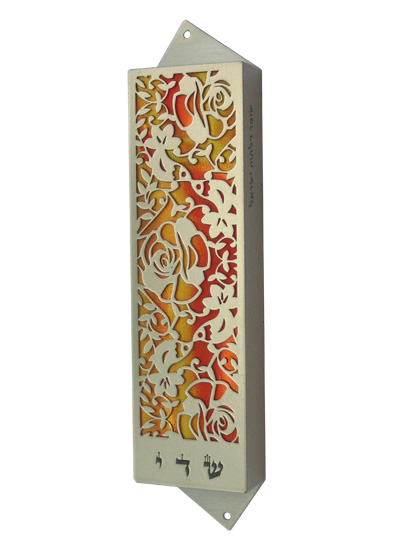 Love Birds Mezuzah
SKU: ME205M
price $95
Add to basket
Description:
This lively colorful mezuzah is a delicate filigree metal work decorated with flowers and love birds.
This romantic design along with its cheerful orange-goldish background makes this mezuzah a perfect present for a wedding and will bring love to any home.
The Mezuzah is also imprinted with "Shaday", which means the protector of our gates and is also one of God's names.
signed by the artist.
Features:
Materials:
Coated Nickel Silver
Dimensions:

5-1/2" X 1-1/4"
14 cm X 3.2 cm

Scroll:
fits max. 10 cm scroll
Accesories:
Mounting hardware
copy of a scroll