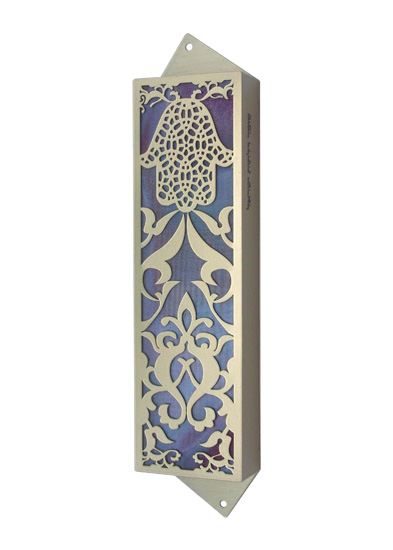 Hamsa Mezuzah
SKU: ME203M
price $95
Add to basket
Description:
This filigree mezuzah is a refined piece decorated with a Hamsa.
the "Hamsa" is a traditional Jewish amulet that is believed to draw positive energies, good luck and ward off the evil eye.
"Hamsa" protects the ones who display at their homes or work place.
This Mezuzah with its blue-red background color makes this item apeice of modern Judaica on you doorway.
signed by the artist
Features:
Materials:
Coated Nickel Silver
Dimensions:

5-1/2" X 1-1/4"
14 cm X 3.2 cm

Scroll:
fits max. 10 cm scroll
Accesories:
Mounting hardware
copy of a scroll